I was scrolling through my watch list when I came across a potentially great opportunity in a 15-minute chart of NVDIA Corporation (ticker: NVDA) for tomorrow's market.
NVDA has experienced two days of down trending behavior and the developing value area indicator illustrates that the Money Zone levels for tomorrow's market will be lower than today's value area, indicating a bearish sentiment for the upcoming session.
When this occurs, it is prudent to stalk short opportunities as long as price opens the day within or below the day's value area.  Therefore, if NVDA opens the session at or below $12.80, look to sell any pull-back between $12.80 and $13.00 tomorrow morning.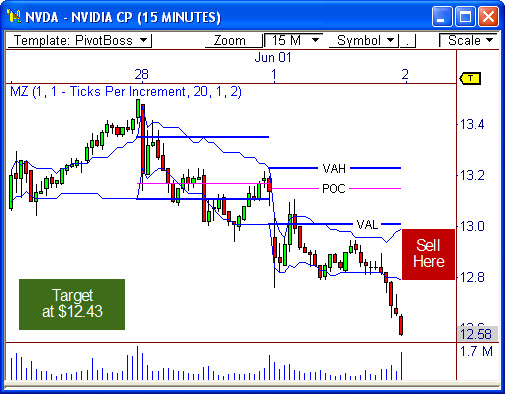 If sellers pile on in this zone, we could see a steady fall to the $12.43 level, which is a virgin Point of Control.
However, if price opens the session above $13.00, this is an indication that a huge shift in sentiment has occurred overnight, which could push pirce back toward the May 27th high of $13.50.
Let's see how this baby plays out!