The Dow has traded virtually sideways over the last two weeks, but finally looks primed for a major breakout opportunity – one that could spark the next 500 point move!
The 15-minute chart of the Dow Jones Industrial Average (ticker: $DJI) shows the index has been developing an ascending triangle pattern the last two weeks. This type of pattern has the potential to ignite a highly profitable breakout opportunity.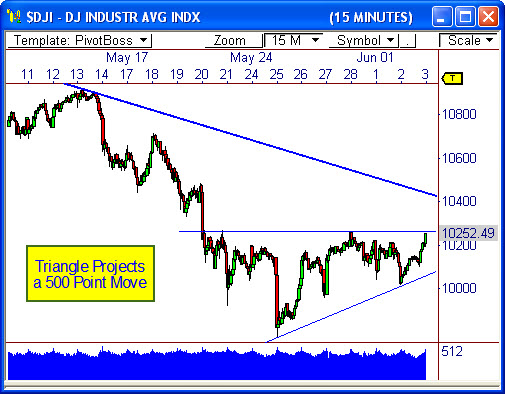 Technically speaking, ascending triangles tend to break to the upside, which is the flat side of the pattern. Therefore, keep an eye on 10,275 for a bullish breakout tomorrow.
In this particular case, however, the Dow must contend with an upper trend line at 10,400, which has paced the recent 6-week sell-off. If the index can break through 10,400, we could have a clear shot at reaching 10,775, which is the forecasted target of the triangle pattern.
However, a failure at 10,400 could lead to a major sell-off in this index.
Keep an eye on the bottom of the triangle at 10,000 tomorrow. A violation of this level could spark a 500 point sell-off to 9,500.
Frank Ochoa
PivotBoss.com
Follow Frank on Twitter: http://twitter.com/PivotBoss