I'm back from South Padre Island! It was a well-deserved vacation filled with sun, fun, and food. The good news? I brought back a few things: a sunburn as a souvenir and two reasons to buy Netflix, Inc. ($NFLX).
1. $NFLX Has Formed a Bullish Outside Reveral Pattern
Last week, I wrote about a pattern called the Outside Reversal in the post 3 Reasons to Sell $CME. Basically, this pattern offers a highly accurate reversal signal when today's price range engulfs the prior day's range, in addition to price closing outside the prior day's range.
Last Friday, a bullish Outside Reversal signal fired in Netflix, which means we could see an upside continuation back toward the June high of $128 – 10 points from Friday's closing price!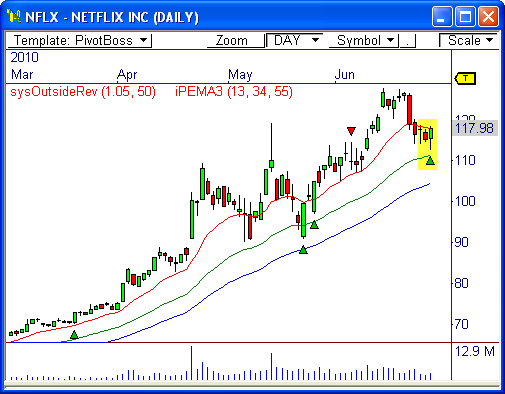 2. $NFLX Has Found Moving Average Support
The price of Netflix has rallied from $20 to $128 over the last two years. In the process, every pull-back has been a buying opportunity.
Plotted on the chart are three moving averages (13-, 34-, 55-period), which show the short, medium, and long term trends of the market. Given the fact that price has dropped back below the 13-period average, while remaining above the 34-period average, indicates a buying opportunity is around the corner.
If price closes beyond $118.65, we could see a push to new all-time highs, likely to $140.
This setup is the basis of the PEMA Pull-Back setup that I will discuss in my FREE eBook Profiting with Pivot-Based Moving Averages – which should be available in a week or two!
This stock has been too strong lately to not find buyers during this short term period of undervaluation. My guess is we see a move higher.
Let's see what happens!
Have any thoughts? Drop me a comment below!
Cheers!
Frank Ochoa
PivotBoss.com
Follow Frank on Twitter: http://twitter.com/PivotBoss