Action Levels for the ES
July 19, 2010 in Analysis
After Friday's decline, the ES could be on the verge of much more selling pressure ahead. Take a look at the action levels that I'll be looking to play today.
Since Friday's market may have triggered a new short term downtrend, I'll be looking to sell into any early strength today. Namely, any move into the 1,070 zone offers a highly confirmed area to become a responsive selling participant.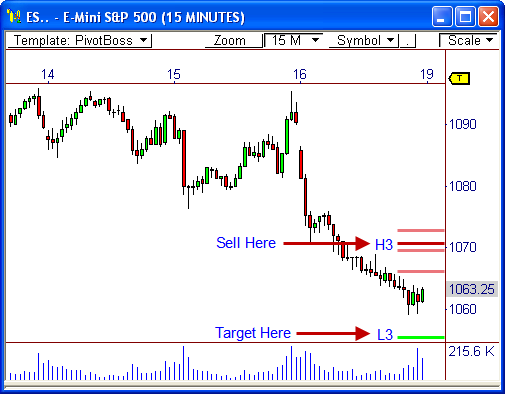 Looking at the 15-minute chart of the ES, you'll notice that the H3 Camarilla pivot will be roughly 1,070.75 for Monday's market. Moreover, this pivot level resides within the day's central pivot range.
This combination of pivots within a trending market can offer a huge area of support or resistance, which is why I'll be looking to sell the market if price reaches anywhere from 1,066.25 to 1,072.75 – and especially the 1,069.50 to 1,070.75 zone.
If price reacts to the 1,070 area, then L3 becomes the target to watch at 1,055.50, which could be reached anytime in the next two days.
Keep in mind that Friday's wide range of price movement could lead to a day of trading range activity. However, if price continues to seek lower value, these action levels could prove profitable.
These are my action levels to watch…what are yours?
Let's see what happens!
Cheers!
Frank Ochoa
PivotBoss.com
Follow Frank on Twitter: http://twitter.com/PivotBoss