Is Crude Oil Due for a Breakout?
September 23, 2010 in Analysis
Crude Oil (CL) has had decent price swings over the last few months, but September has been fairly dry, thus far. However, Crude could be on the verge of a major breakout opportunity – one that could push price 12 points in the direction of the breakout!
Triangle
The daily chart shows Crude Oil has been coiling within the boundaries of a developing triangle pattern, which has formed since August. Since the backend of the pattern spans 12 points, a breakout from this pattern should spark a 12 point move – which is a big for this commodity.
Also, you'll notice that all three of the pivot-based moving averages are basically flat, or neutral. This usually occurs just before a major breakout opportunity, which I call the PEMA Breakout. You can read more about this setup in my FREE eBook Profiting with Pivot-Based Moving Averages.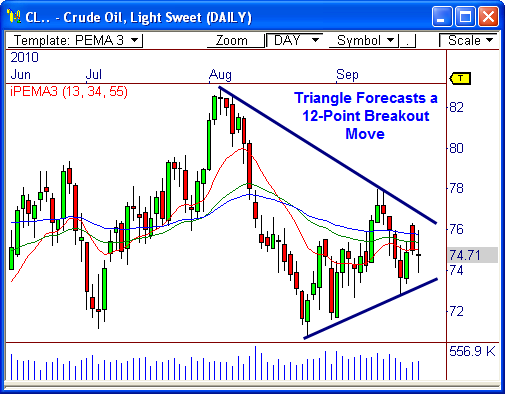 I'll be watching $76.75 and $73.25 for early breakout scenarios. However, a breakout will only be confirmed once price closes beyond a prior price pivot – $78 up, or $72.75 down.
Let's see how this one plays out!
Cheers!
Frank Ochoa
PivotBoss.com
Follow Frank on Twitter: http://twitter.com/PivotBoss