$BIIB is a Buy
November 9, 2010 in Analysis
Biogen Idec ($BIIB) had been trending higher throughout October and is now offering a solid "buy the dip" opportunity, which could push price to $70 a share. Read More..
Modified PEMA Crossover Buy Signal
The daily chart shows that a Long signal has fired from the Modified PEMA Crossover system. As you are now familiar, this signal fires during pull-backs and the signals are taken very seriously during well-defined trends.
While a "measured move" target indicates the potential for price to reach $70, I'll be watching $67 as a first target objective.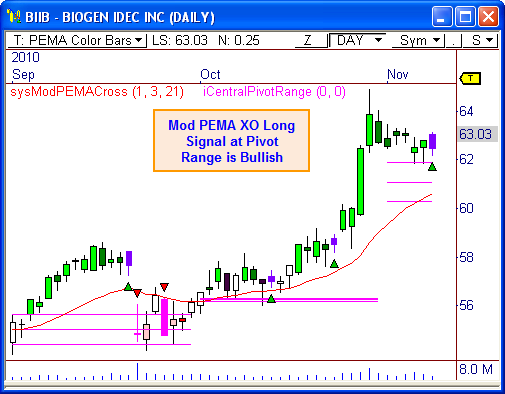 To read about the Mod PEMA setup (and MORE!), get my FREE eBook Profiting with Pivot-Based Moving Averages.
Higher Value Relationship
The daily chart also shows a two-month Higher Value relationship, which occurs when the pivot range from the current month is completely higher than the pivot range from the prior month.
This relationship indicates a strong market and any pull-back to the range is usually seen as a buying opportunity.
The fact that the Mod PEMA signal coincides with the pivot range adds a nice touch of confirmation to this setup.
To read more about the Higher Value relationship (and MUCH MORE!), get my book Secrets of a Pivot Boss.
Let's see how this one plays out!
Cheers!
Frank Ochoa
PivotBoss.com
Follow Frank on Twitter: http://twitter.com/PivotBoss