First Solar is Ready for a Breakout
August 30, 2011 in Analysis
First Solar has rebounded nicely after forming a short term bottom just above $87.00 a week ago. After rallying over 10 points in just a week's time, this stock looks poised for another big move. Here's why…

Inside Value Relationship
It's no secret that I prey upon charts that have an Inside Value relationship present. Quite simply, this setup has the juice to produce some of the most explosive breakout moves in any chart and in any timeframe.
As you may recall, the Inside Value relationship develops when today's Value Area engulfs the upcoming day's Value Area, which is the case in this 15-minute chart of $FSLR.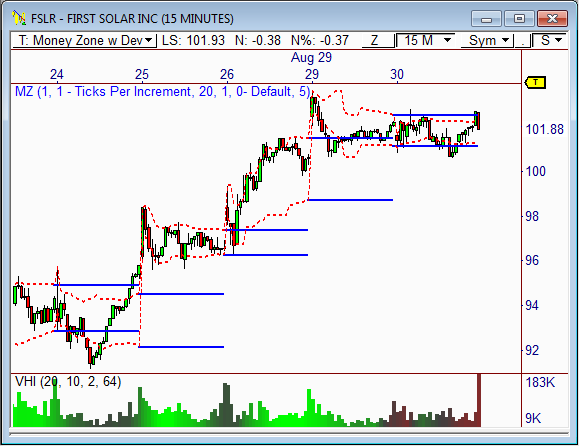 Notice that the two red dotted lines (Developing Value Area) forecast an inside relationship for the upcoming session.
This could mean a BIG day. If price breaks free from the two-day price range, we could see a move of between 3 and 5 points.
Watch $100.50 down, and $103.00 up.
(Almost) Inside Day
Today's price movement almost created an Inside Day relationship, which occurs when today's price range is engulfed by the prior day's price range.
An Inside Day was barely missed by just 4 ticks, but I'm not so rigid as to think that this "almost" setup won't deliver the goods tomorrow.
Keep an eye on the August 30 price range, as a breakout could lead to very nice movement tomorrow.
Last Chance!
August 31 is the last day for the special book offer – Buy Secrets of a Pivot Boss from PivotBoss.com before September 1 and receive a FREE live webinar hosted by yours truly in September!

The webinar (Jumpstart Your Trading) will be designed to kickstart your trading with powerful pivot-based concepts from the book, including:
The Importance of Price-Based Indicators
An Introduction to Pivot-Based Indicators
Powerful Pivot-Based Setups
Anatomy of a Setup
Bargaining for the Best Entry
And more!
This webinar carries a value of $200, but it's yours absolutely FREE if you purchase my book from PivotBoss.com by August 31!
Let's see how FSLR turns out!
Cheers!
Frank Ochoa
PivotBoss.com
Follow Frank on Twitter: http://twitter.com/PivotBoss