PivotBoss Report for 01/23/12
January 23, 2012 in PivotBoss Report

Market Outlook
The S&P 400 Index ($MID) is holding above a long term resistance level for the first time in nearly six months, which could pave the way for more strength ahead. Today's intraday price action could introduce a nice surprise, as well. Here's why…
The daily chart of the S&P 400 Index shows price has closed above the major 922 resistance level for three straight sessions. As you may recall, this resistance level has been a major line in the charts since the beginning of 2011, serving as both support and resistance during this time.
The fact that price is holding above this zone opens the door to more strength ahead, as there is "clear air" above, likely to 1,000. While the index has been bullish since mid-December, it has rallied without any significant pull-backs, which is mildly concerning. Should a pull-back occur, we'll have to see how price responds to the 922 fulcrum. A break back below this zone could fuel the "need" for a test at 900 before more upside is seen.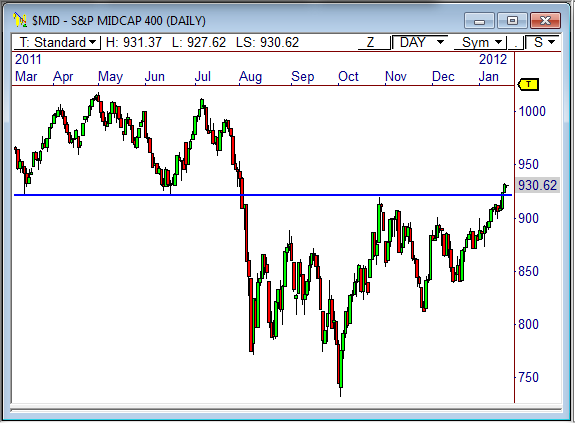 The 15-minute chart shows price has formed an Inside Value relationship, which can be a very powerful breakout setup. The Inside Value relationship occurs when the upcoming value area develops inside the VA from the prior session.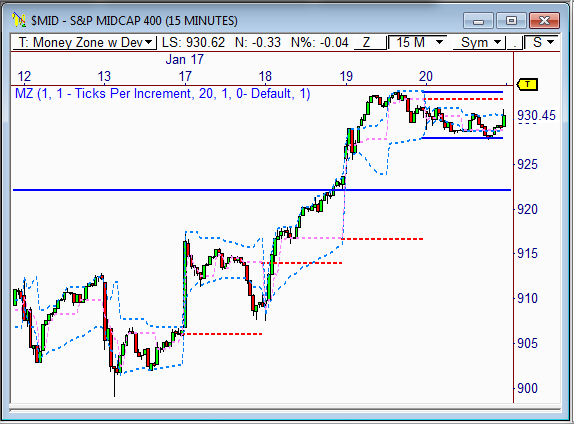 This usually indicates that price is coiling and is poised for a breakout opportunity ahead. A breakout in either direction could spark the next 10 to 15 point move out of the current range.
Watch the current price range for a breakout opportunity – 934 up, and 927 down.
Key Levels

Short Term

Medium Term

Index

Bull

Bear

Bull

Bear

NASDAQ COMP
2,800
2,770
2,800
2,625
Dow Jones
12,775
12,500
13,000
12,500
S&P 400
935
922
935
900
NASDAQ 100
2,445
2,425
2,450
2,380
S&P 100
597
591
605
580
Russell 2000
786
779
800
770
S&P 500
1,316
1,307
1,325
1,275
E-Mini Game Plan
The mini-sized Dow futures (YM) contract continues to trend solidly higher after breaking free from the two-week trading range that developed to begin the year. The index could be headed to the next area of resistance, which would be the July double-top at 12,750.
The 15-minute chart shows the YM has formed consecutive Higher Value relationships, which bodes quit well for strength. If price opens above value (12,627), we could see follow-through to the upside ahead.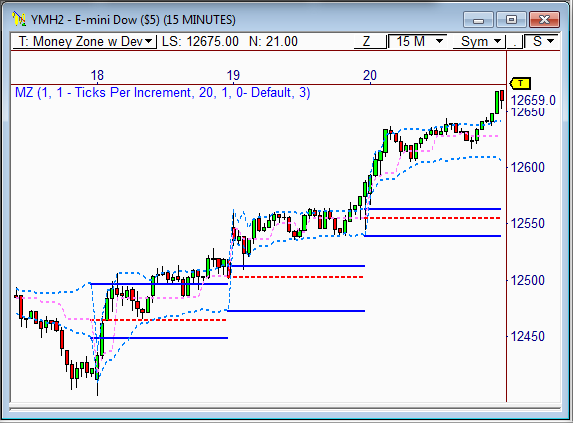 Look to buy into any morning weakness between 12,609 and 12,641, with target objectives at 12,717 and 12,750.
If price opens below 12,600, then a test back toward 12,554 could be seen.
Swing Trade Signals
Today's Swing candidate is First Solar, Inc. (FSLR). This stock is currently enduring a significant downtrend, as price has slid from the 2011 high of $175.45 to the current price of $38.45 (78%) in just 11 months!
Needless to say, every pull-back within the decline has been seller gold.
Price has staged a modest "rally" from the December lows of $29.87, but seems to now be overbought within the bearish trend, which means sellers could become active again. A new Short signal has fired, which means we could see another drop back toward prior lows near $30 again.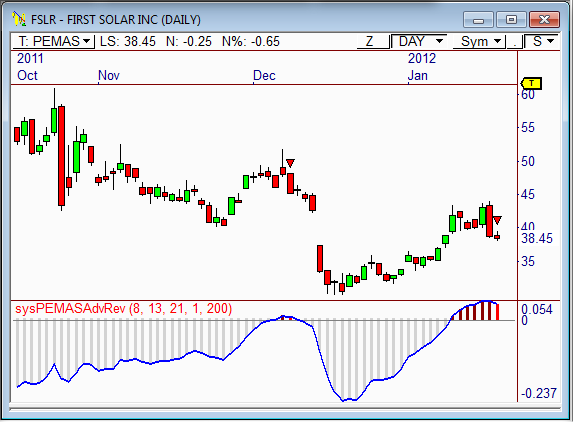 A break below Friday's low could trigger new shorts at $37.85. However, timing your short entry between $39 and $40 could prove more profitable. Ultimately, you'll want to hold a portion of your position for a test at $30, but you can also scale out at the following targets: $36.65, $35.27, $33.27, and $32.64.
Cheers!
Frank Ochoa
PivotBoss | Own the Market