The E-Mini Russell 2000 opened the day with a gap down today, and proceeded to trade virtually flat the remainder of the session. However, today's quiet trading could lead to tomorrow's big breakout. Here's more..

Narrow Value Area
The 15-minute chart shows the E-Mini Russell gapped lower today, but was rather stagnant the rest of the session. As a matter of fact, the Value Area for Tuesday's market was unusually wide (solid blue lines), which is usually a great indication that price activity could be rather reserved…which was indeed the case.
What's the opposite of a wide Value Area and stagnant price movement? Right, a narrow Value Area with breakout potential!
Today's quiet trading has led to the creation of a very narrow Value Area for tomorrow's market, which could forecast a nice breakaway move to begin the session.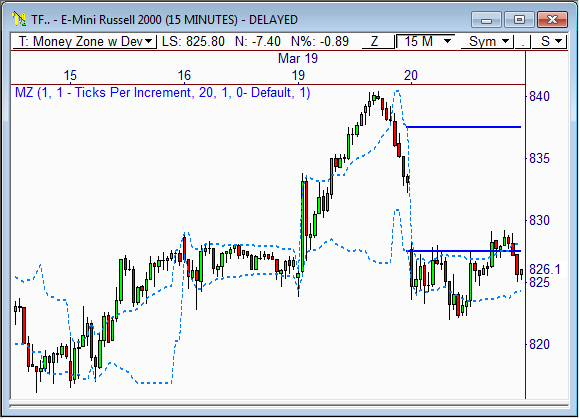 If price opens the session with a gap outside of Tuesday's price range, we could see a solid move in the direction of the gap for the first two hours of the day.
Where's the Target?
The current 10-day ADR of the E-Mini Russell is 12.7 points, which means the TF has had an average daily range (High minus Low) of 12.7 points over the last 10 days.
By adding the ADR value to the day's close price of 826.1, you'll get a rough estimate of where price could be headed tomorrow should an upside break occur – 838.8.
Likewise, subtracting 12.7 from the day's close price, gives you a potential bear target of 813.4 should a downside break occur.
Keep in mind, these targets should be updated tomorrow morning after the overnight high and low have been recorded, as the accuracy of this target methodology relies on projecting the ADR value from the ONL and ONH.
Let's see how this one plays out!
Cheers!
Frank Ochoa
PivotBoss | Own the Market
Follow Frank on Twitter: http://twitter.com/PivotBoss