Stiff Rejection at 1,336
June 11, 2012 in Analysis
The E-Mini S&P 500 found major resistance at 1,336 today, which sparked heavy selling pressure throughout the day. Could a trip back toward the June lows be ahead? My thoughts..

Lower Value
The ES opened the session with a gap up this morning, as price opened near the monthly pivot point of 1,336, but was met with immediate selling pressure that lasted the entire session.
The daily chart shows the monthly pivot range has formed a two-month Lower Value relationship for the first time in many months, which is quite bearish. The fact that price rallied into this range and was immediately met with selling pressure is indicative of continued weakness ahead, likely back toward the June low of 1,262.
Of course, the top of the pivot range at 1,350 also coincides with prior support-turned-resistance, which has developed since February. This is the key line in the sand between bulls and bears.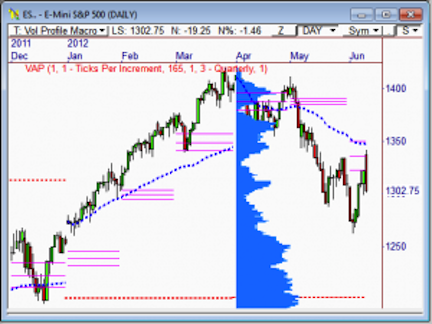 Volume Analysis
The daily chart also includes a 165-day volume composite chart, which shows that price remains in the upper distribution of the profile – the vertical development portion.
This is good for longer term strength. However, if price cannot rise above 1,350, we could see another round of selling pressure that pushes price back toward the high volume area of 1,200 to 1,250 soon.
The 1,350 level also carries additional significance due to the 3-month VWAP hanging overhead, which creates a confluence of resistance with the top of the pivot range. Again, more downside is likely to be seen ahead until 1,350 can be crossed and held.
New Course with MarketGauge!
I've joined forces with MarketGauge to provide another powerful course – coming next Monday, June 18! In our first collaboration in over a year, I'll be teaching a course called Volume-Based Points of Control.
Keep the date open, as more information will become available soon!
Cheers!
Frank Ochoa
PivotBoss | Own the Market
Follow Frank on Twitter: http://twitter.com/PivotBoss