Heating Oil is One to Watch
February 13, 2013 in Analysis
May 15, 2013 in Hot Topics
Here's a look at my upcoming speaking engagements – one webinar, and three live dates, so there's a little something for everyone!
March 13, 2013 in Trade Craft
While I typically write forward-looking commentary and analysis, I wanted to write a piece that showed the anatomy of a trade in 5 simple steps, essentially tying together all the various aspects of the education that I teach. Here's more…
March 3, 2013 in Hot Topics
One of the fastest ways to improve your trading is to improve your targets. The ability to identify accurate targets puts less pressure on your entries, and more money in your pocket.
Heating Oil futures have been on the move, but now the commodity is sitting just below significant resistance. Here's more…
Resistance
The daily chart of Heating Oil futures shows price has experienced a solid run of strength over the last four weeks, rallying from a low of 2.9858 in January to a recent high of 3.2575 in February.
However, HO has run right into a major wall of resistance at 3.26, which has been a significant zone since September of last year. Each of the two prior attempts at 3.26 has resulted in extremely bearish reversals, so we'll want to watch how price reacts to this level this time around.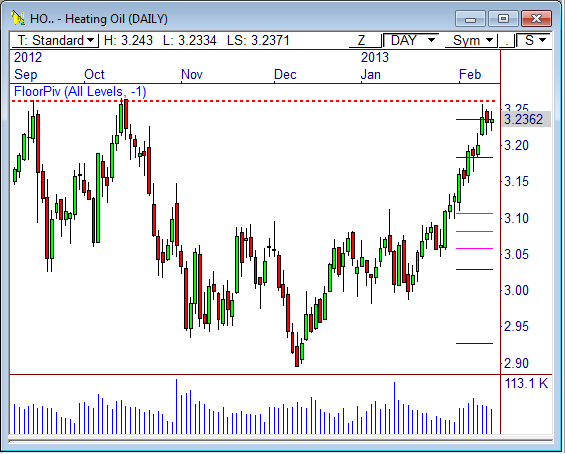 Double Inside Day
The daily chart also shows that HO has formed a Double Inside Day setup. This pattern forms when the current day's price range falls within the prior day's price range, and the price range from two days ago falls inside the range from three days back.
In essence, this pattern can spark significant breakouts. Watch the price range from Tuesday's trading for a potential breakout ahead – 3.2198 down, and 3.2486 up.
Floor Pivots
Price is currently sitting right at the monthly R2 Floor pivot, which is significant. On average, price usually closes within the R2/S2 price band around 70 or 80% of the time.
As a matter of fact, HO has only tested R2 four times since the beginning of 2012, and has only once closed above it during this time.
Therefore, we could see a reversion to the mean type of move ahead, whereby price drops back toward R1, and potentially as low as the top of the pivot range at around 3.106.
IF price happens to break beyond the 3.26 resistance level, there is a two-year resistance level above at 3.32, which should be an upside target to watch.
Let's see how this one turns out!
Cheers!
Frank Ochoa
PivotBoss | Own the Market
Follow us on Twitter: http://twitter.com/PivotBoss