PB View
From Thursday's report, "It seems like the entire market is coiling. Nothing is moving, but everything has huge potential for movement. Like the market, I am in "wait and see" mode, and we have a slew of reports and news out today that could finally influence a breakout in a wide variety of markets."
Wow, what a wild day Thursday. Futures contracts had some great movement, from Crude to the Euro FX, from Heating Oil to the NASDAQ, there was a ton of excitement for a lazy summer trading day. And I'll take it!
With Crude continuing to make new highs, and the E-Mini NASDAQ seeing big selling on the close, today could be another day of decent movement.
The E-Mini S&P 500 is beginning to show signs of exhaustion, and the NQ is already below major support. Gold continues to build out within a large trading range, and Crude could be closing in on a near term high. There's tons to play before the weekend starts, but let the market come to you and watch your levels closely. The first zone that I'll be watching is 1683 to 1684.50 in the ES. A failure here could introduce big time selling. We'll see soon enough.
Cheers!
Frank Ochoa
PivotBoss | Own the Market
Follow me on Twitter: @PivotBoss
______________________________________________________
This daily report is currently free and open to the public, as I gather feedback and ideas ahead of a formal subscription offering later in the summer. If you have any feedback regarding anything in the report (good or bad) please provide it below in the comments section. Your comments will definitely help shape the report for the better. Thank you!
E-Mini S&P 500
In yesterday's ES report I wrote, "If price can push through 1680.50 and get a solid breakout through the top of the four-day range, then I think the weekly bull target at 1699.25 comes into view."
The E-Mini S&P 500 opened Thursday's session with early strength through the 1680.50 level and rallied nonstop to 1688.50 and took out each daily target before falling late in the day. While the weekly bull target is still in plain sight, Thursday's late-day reversal indicates it may not be reached this week.
The daily chart shows price has once again risen to the 3rd standard deviation of the YTD VWAP Bands, and put in a bearish tail at the highs. The last time price ventured into this territory it formed the blow-off top that led to the most recent retracement back to VWAP at 1553.25.
The key zone that I'll be watching is 1683 to 1684.50. If price cannot rise beyond this zone today, I'd be looking to sell this area for a move back toward 1673.25.
Longs should be cautious at these levels, but upside targets at 1686, 1689.50, and 1692.50 could be reached if the ES can get above 1684.50.
There are no economic news events scheduled for Friday.
Here are the Key Levels and Targets for the current session:
PivotBoss Levels & Targets: E-Mini S&P 500 (ES)
Jul 19, 2013
KEY LEVELS
ADR TARGETS
1,692.50
Fib Ext
ADR (10)
ONH
ONL
1,688.50
PD High
14.25
1,682.25
1,675.25
1,684.50
VPOC
AWR (10)
WH
WL
1,680.75
SETTLE
44.75
1,688.50
1,665.75
1,679.75
LVN
1,677.50
PD Low
DAILY TARGETS
WEEKLY TARGETS
1,677.25
nVPOC
BULL
BEAR
BULL
BEAR
1,673.25
Fib Ext
1,693.06
1,675.13
1,710.50
1,654.94
1,673.00
LVN
1,689.50
1,671.56
1,699.31
1,643.75
1,670.50
nVPOC
1,685.94
1,668.00
1,670.00
cVPOC
1,682.38
1,664.44
1,666.25
LVN
*BOLD indicates primary objectives
1,664.25
nVPOC
1,660.50
LVN
1,656.00
HVN
1,652.25
LVN
1,648.75
Open Gap
1,644.75
HVN
1,644.50
nVPOC
1,637.25
cVPOC
1,635.00
nVPOC
E-Mini NASDAQ 100
In yesterday's NQ report I wrote, "the most significant level on the chart remains 3064. As long as the NQ remains above this zone, we are likely to see price trail higher within the current trend, likely toward the weekly bull target of 3137.50."
The NASDAQ got hit hard right on the close yesterday as GOOG missed on earnings, which tanked the futures down to 3046.25 from 3072. This miss virtually sealed any shot at the weekly bull target at 3137.50, but 3012.25 is starting to come into view as the downside weekly bear target.
The late-day sell-off caused a huge break of the 3064 support level, which had held phenomenally. Breaking this zone is big, and the inability to climb back above would suggest another wave of weakness ahead. Additionally, the daily chart shows a highly bearish outside day reversal pattern, further suggesting weakness down the road. As a matter of fact, a basic 38% Fib retracement in the daily chart forecasts price to 2986.25.
As of this writing, the NQ futures are trading 3046.25. Be cautious if price rallies into the 3061 to 3066.75 zone. If price struggles here, this could be a prime selling opportunity, with downside targets at 3033.75, 3030.75, and 3026.25.
I'd cautious longs today, unless playing early momentum out of the gate. Short term high probability bull targets for the day are 3054 and 3061.75.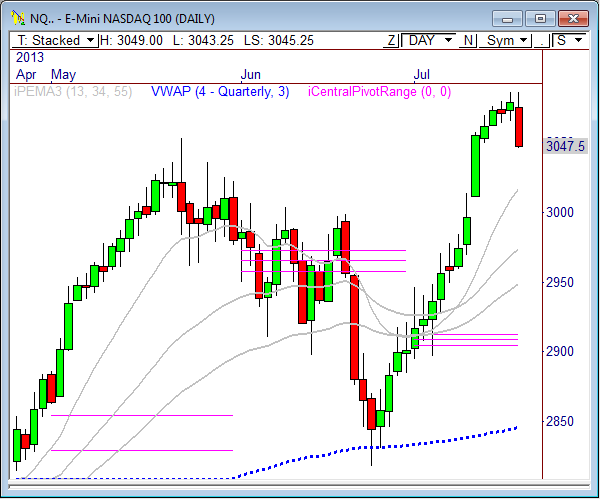 Here are the targets for the current session and the week ahead:
PivotBoss Levels & Targets: E-Mini NASDAQ 100 (NQ)
Jul 19, 2013
KEY LEVELS
ADR TARGETS
3,102.50
Fib Ext
ADR (10)
ONH
ONL
3,096.25
Monthly H5
30.5
3,049.00
3,038.75
3,087.00
PD High/LVN
AWR (10)
WH
WL
3,074.50
VPOC
99.75
3,087.00
3,046.00
3,062.75
LVN
3,056.00
HVN
DAILY TARGETS
WEEKLY TARGETS
3,049.00
SETTLE
BULL
BEAR
BULL
BEAR
3,048.75
LVN
3,076.88
3,033.75
3,145.75
3,012.19
3,046.25
PD Low
3,069.25
3,026.13
3,120.81
2,987.25
3,030.75
Fib Ext
3,061.63
3,018.50
3,029.50
nVPOC
3,054.00
3,010.88
3,027.50
LVN
*BOLD indicates primary objectives
3,011.50
HVN
3,008.00
nVPOC
2,997.00
Open Gap
2,995.00
nVPOC
2,991.00
cVPOC
Crude Oil
In yesterday's Crude report I wrote, "Short term, watch LVNs at 106.77 and 105.02 as resistance and support, respectively. A break through either of these levels could start the initial party for a breakout."
Crude finally got a breakout from the tightly-coiled 6-day range, as price rallied through the 106.77 LVN before topping out at 108.43. Each key bull target was taken out except the 125% target at 108.68, which I was actually shooting for on my last scale late in the day.
Again, Crude Oil is rallying in pre-market trading, and new highs are being seen. The 109.04 level has is a Fib extension from Thursday's trading, so that level may offer resistance. Additionally, program trading algorithms are beginning to see a high number of Fib matches at these levels, which means we could see some selling in Crude at some point off these highs. Also, keep in mind my 109.51 weekly bull target is still above and could be reached today.
Continue to buy pullbacks in Crude until 109.51 is reached. Selling is not advised until support at 107.70 is taken out.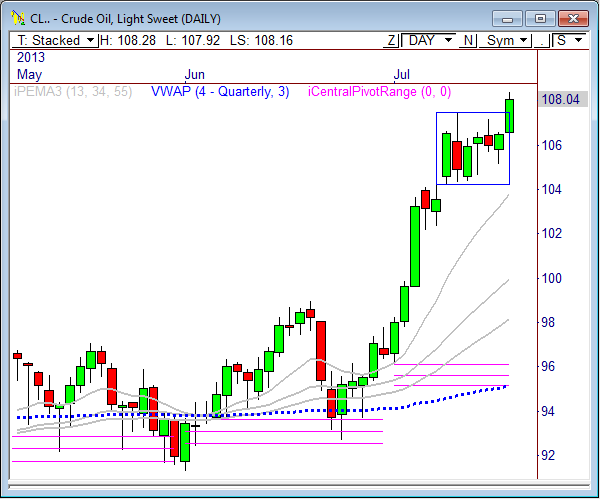 Here are the targets for the current session and the week ahead:
PivotBoss Levels & Targets: Crude Oil (CL)
Jul 19, 2013
KEY LEVELS
ADR TARGETS
110.00
Yearly R1
ADR (10)
ONH
ONL
109.04
Fib Ext
2.33
108.65
107.73
108.43
PD High
AWR (10)
WH
WL
108.03
SETTLE
6.48
108.43
104.65
107.85
VPOC
107.71
Monthly R3
DAILY TARGETS
WEEKLY TARGETS
107.46
LVN
BULL
BEAR
BULL
BEAR
106.83
PD Low
110.64
107.49
111.13
103.57
106.71
LVN
110.06
106.90
109.51
101.95
106.24
LVN
109.48
106.32
106.22
Fix Ext
108.90
105.74
105.97
nVPOC
*BOLD indicates primary objectives
105.88
cVPOC
105.54
LVN
105.02
LVN
104.37
LVN
104.20
LVN
103.52
Open Gap
Gold
In yesterday's Gold report I wrote, "Ultimately, Gold must get a decisive break through either 1265 or 1300 to spark the next swing move in this commodity."
Not much to say about Gold that hasn't already been said this week. It's stuck within a 6-day range that spans from 1265 to 1300 and could pop any day now. But until it does, more range movement will likely occur.
There remains a confluence of resistance between 1300 to 1302, so any push into this zone could be sold on first test. However, a violation of this zone could lead to a big wave of strength back toward 1320 in a flash. I still maintain that in order to sell off, the market must test higher first. In essence, look for GC to test levels above 1300 before it can deal with 1265, as the market wants to know how price reacts to 1300 before committing to the downside (or upside, even).
The 1288 level is a clear line in the sand in the short term. Watch this level for early direction bias. A break below this zone forecasts 1284, while a hold indicates another test in the 1295 zone.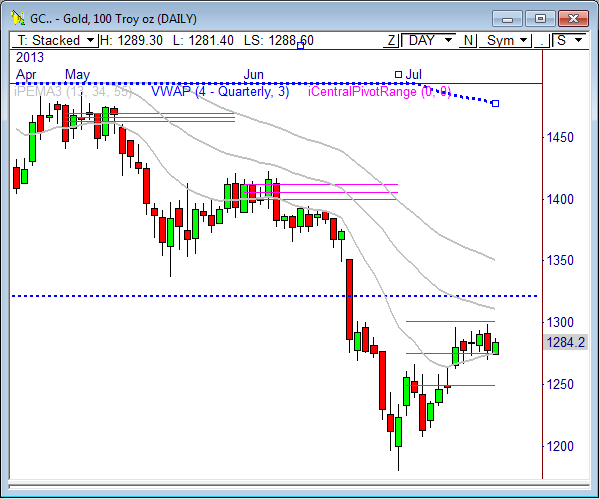 Here are the targets for the current session and the week ahead:
PivotBoss Levels & Targets: Gold (GC)
Jul 19, 2013
KEY LEVELS
ADR TARGETS
1,316.50
Fib Ext
ADR (10)
ONH
ONL
1,310.70
34PEMA
26.7
1,293.90
1,281.40
1,301.30
Monthly TC
AWR (10)
WH
WL
1,300.90
50% Fib
72.40
1,299.70
1,269.30
1,300.00
LVN
1,293.40
nVPOC
DAILY TARGETS
WEEKLY TARGETS
1,292.20
Fib Ext
BULL
BEAR
BULL
BEAR
1,291.10
Monthly H3
1,314.78
1,280.55
1,341.70
1,245.40
1,288.10
LVN
1,308.10
1,273.88
1,323.60
1,227.30
1,287.90
PD High
1,301.43
1,267.20
1,284.30
SETTLE
1,294.75
1,260.53
1,283.80
cVPOC
*BOLD indicates primary objectives
1,276.50
PD Low
1,275.80
Monthly Pivot
1,275.20
LVN
1,272.10
Fib Ext
1,269.40
LVN
1,260.80
LVN
1,255.20
HVN
1,254.10
nVPOC
1,243.60
LVN