PB View
Now that the Fed is behind us, all eyes will be on Friday's Non-Farm Payroll (NFP) number. As a matter of fact, all eyes have been on the Jobs number for a few weeks, as the S&P 500 futures has traded within a highly compressed range the for three straight weeks. Eventually, a breakout from this range could spark some major movement soon, so watch the outer boundaries very closely – 1695.50 and 1670.
I had the pleasure of writing the Opening Print for Danny Riley and the MrTopStep crew for today's session, titled August Seasonality and a Trade to End the Year. I've offered some great August seasonality statistics, which could give us a high probability trade heading into the end of the year.
Give it a read and leave a comment to let us know what you think!
Cheers!
Frank Ochoa
PivotBoss | Own the Market
Follow me on Twitter: @PivotBoss
______________________________________________________
This daily report is currently free and open to the public, as I gather feedback and ideas ahead of a formal subscription offering later in the summer. If you have any feedback regarding anything in the report (good or bad) please provide it below in the comments section. Your comments will definitely help shape the report for the better. Thank you!
E-Mini S&P 500
In yesterday's ES report I wrote, "The current overnight high of 1687.75 forecasts a primary downside target of 1677.25, while the overnight low of 1681.50 projects a primary upside target of 1692."
The E-Mini S&P 500 futures opened Wednesday's trading with early strength that led to a quick move to our primary bull target of 1692. Price topped out at 1692.75 heading into the FOMC statement, and later saw highs of 1694 before selling hard into the close.
The daily chart shows price continues to look overextended in the near term, as a Max Reversal setup has formed using the year-to-date VWAP and standard deviation bands. The fact that price closed above the top standard deviation band (the 3rd std dev) and then back below it within a few days usually indicates a move back toward the 1st standard deviation band, followed by a move to VWAP. This is the same outcome that played out in May.
The 1694 to 1695.50 zone of resistance has been a brick wall for two weeks. If price can push through this zone of resistance, it could open up the flood gates for a move through 1700, likely toward a target 1709.50. However, if the 1694 to 1695.50 zone continues to hold as resistance, we could see quite a drop ahead, likely toward a test of 1670 support. Depending on how the ES handles 1670 will tell us whether price will venture lower, or see responsive buying.
The current pre-market range in the ES is 9.5 points, and the current 10-day ADR is just 13.75 points, so there's only about 4.25 points left for expansion if price is to trade as it has on average. The current overnight low of 1684.50 points to a primary bull target of 1694.75, with a shot to reach 1698.25 and 1701.75. The current overnight high of 1694 projects targets at 1687.25 and 1683.75, but this will change when a new high beyond 1694 is printed.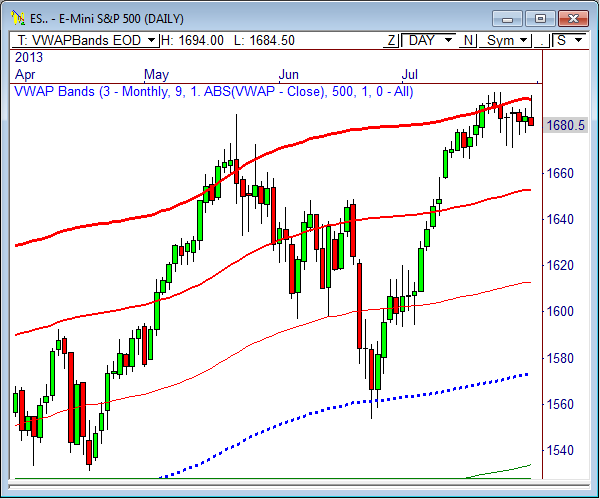 Today's scheduled economic news:
6:30am CT Challenger Job Cuts y/y
7:30am CT Unemployment Claims
8:00am CT Final Manufacturing PMI
9:00am CT ISM Manufacturing PMI
9:00am CT Construction Spending m/m
9:00am CT ISM Manufacturing Prices
9:30am CT Natural Gas Storage
Here are the Key Levels and Targets for the current session:
PivotBoss Levels & Targets: E-Mini S&P 500 (ESU3)
Thu, Aug 1, 2013
KEY LEVELS
ADR TARGETS
1,708.25
Monthly R2
ADR (10)
ONH
ONL
1,697.75
Monthly H5
13.75
1,694.50
1,684.50
1,694.00
PD High
AWR (10)
WH
WL
1,693.00
LVN
28.25
1,694.50
1,676.50
1,686.75
VPOC
1,683.50
cVPOC
DAILY TARGETS
WEEKLY TARGETS
1,680.50
SETTLE
BULL
BEAR
BULL
BEAR
1,680.25
PD Low
1,701.69
1,687.63
1,704.75
1,673.31
1,677.50
HVN
1,698.25
1,684.19
1,697.69
1,666.25
1,675.50
13PEMA
1,694.81
1,680.75
1,672.00
LVN
1,691.38
1,677.31
1,670.00
HVN
*BOLD indicates primary objectives
1,666.25
LVN
1,664.25
nVPOC
1,662.00
LVN
1,656.00
HVN
1,652.25
LVN
1,648.75
Open Gap
E-Mini NASDAQ 100
In yesterday's NQ report I wrote, "There is a major LVN at 3086, which could influence price early in the session…If 3070 holds, then a likely test of 3100 occurs above."
The E-Mini NASDAQ 100 futures opened Wednesday's market with a swift push beyond the 3086 LVN and rallied just shy of 3100 before basing into the FOMC statement. After the release, price rallied into 3100 and topped out at 3105 before closing day with weakness.
The 60-minute chart shows the NQ to be highly bullish, as a well-structured two-week uptrend has remained intact since the 3023.50 lows last week. If price continues to hold above 3092.5, we are likely to see further strength into our primary bull target of 3110, with a shot at seeing 3117.25. If price cannot rise beyond the current overnight high of 3107.75, then we could see a move back to 3086.50, which is the day's primary bear objective.
Short term, the 3080 level is key pivot in the chart. Below this level likely breaks the bull trend, and opens the door to big time selling. If price stays above 3080, I'll keep an eye on the weekly bull targets of 3107.25 and 3124.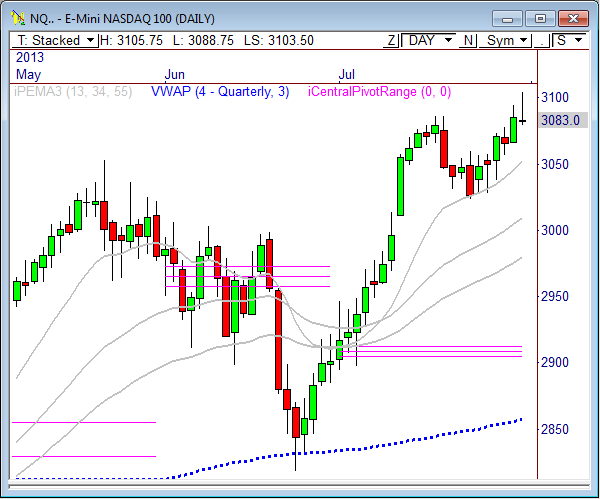 Here are the targets for the current session and the week ahead:
PivotBoss Levels & Targets: E-Mini NASDAQ 100 (NQU3)
Thu, Aug 1, 2013
KEY LEVELS
ADR TARGETS
3,119.00
Monthly R2
ADR (10)
ONH
ONL
3,105.00
PD High
28.5
3,107.75
3,088.75
3,096.00
Monthly H5
AWR (10)
WH
WL
3,093.00
VPOC
67.25
3,107.75
3,056.75
3,086.00
LVN
3,083.00
SETTLE
DAILY TARGETS
WEEKLY TARGETS
3,081.25
PD Low
BULL
BEAR
BULL
BEAR
3,074.75
HVN
3,124.38
3,093.50
3,124.00
3,057.31
3,069.50
nVPOC
3,117.25
3,086.38
3,107.19
3,040.50
3,067.00
LVN
3,110.13
3,079.25
3,058.75
LVN
3,103.00
3,072.13
3,049.50
nVPOC
*BOLD indicates primary objectives
3,046.25
LVN
3,046.00
13PEMA
3,034.00
cVPOC
3,027.50
LVN
3,008.00
nVPOC
Crude Oil
In yesterday's Crude report I wrote, "Watch price closely if it rises into 103.90 to 104.10, as a failure in this zone could offer a great sell opportunity back toward 102. A break and hold above 104.10 could signal a push toward the next resistance level at 105.35."
The 103.90 to 104.10 zone proved to be an extremely important range in Crude during Wednesday's market. Crude rallied into the 103.83 and was quickly rejected, leading to a decline of nearly 1 point. However, the next time price pushed into this zone, it got a major breakout above 104.10 and through the top of the channel, which sparked a very impressive rally right to our upside target of 105.35.
Perhaps what's more impressive is the fact that Crude held above 105.35 throughout the after hours trading, which eventually led to an overnight rally up to 107.24, by far surpassing the average daily range for this commodity before the RTH session has even begun.
The break through the top of the channel released a major amount of buying energy, but it will be interesting to see how price handles the 107.50 level. I pointed out the 107.50 zone a couple of weeks ago, noting that it is a zone that bears want to keep a lid on. I expect this zone to be sold on first test, but it's hard to deny how bullish Crude is right now.
Crude has already surpassed most of the day's bull targets, but one is still above – 107.65. Watch this zone closely, as the 107.50 to 107.65 zone could offer resistance if probed.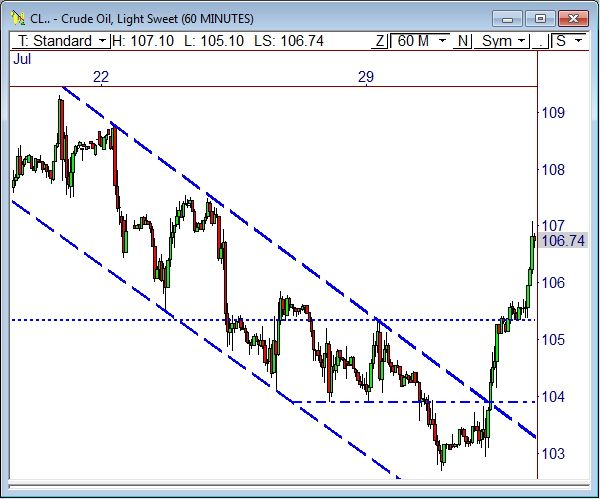 Here are the targets for the current session and the week ahead:
PivotBoss Levels & Targets: Crude Oil (CLU3)
Thu, Aug 1, 2013
KEY LEVELS
ADR TARGETS
110.00
Yearly R1
ADR (10)
ONH
ONL
108.48
LVN
2.04
107.24
105.10
107.71
Monthly R3
AWR (10)
WH
WL
107.35
LVN
4.32
107.10
102.67
106.25
LVN
105.96
cVPOC
DAILY TARGETS
WEEKLY TARGETS
105.08
PD High
BULL
BEAR
BULL
BEAR
105.05
SETTLE
107.65
106.22
106.99
103.86
104.86
HVN
107.14
105.71
105.91
102.78
104.80
nVPOC
106.63
105.20
104.59
VPOC
106.12
104.69
104.00
LVN
*BOLD indicates primary objectives
102.69
LVN
102.93
PD Low
102.20
LVN
102.07
34PEMA
Gold
In Friday's Gold report I wrote, "If price can break and hold above 1340, we could see a very nice advance toward the primary weekly target of 1358.70, with a shot at reaching the full range weekly target at 1372.90…a violation through the bottom of the range at 1315 will spark an important retest of the 1308 to 1310 zone of support. If this zone fails to hold, I think it'll be a quick drop to the 1296 to 1300 zone."
Gold futures had a wild day Wednesday, as prices dropped from the 1335 zone through 1315, before bottoming out at 1304.90. Major buy programs kicked in off the 1305 zone, which lifted price back 1330 just after the RTH session ended.
The 60-minute chart shows the range continues to redefine itself, and has now taken the shape of a bullish flag, which will likely be extremely important to the next major move in this commodity. So far, the fact that every drop below 1310 has been strongly defended by buyers leads me to believe we'll be seeing a test through 1340 soon. If price can break and hold above 1340, we could see another serious wave of strength into the 1370s very soon.
Short term, the 1315 and 1330 levels are the key zones to watch. Look to play reversals within this range until a breakout occurs. The current high of 1330.1 projects bear targets for the day at 1318.10 and 1311.7, while the current low of 1315.30 projects bull targets at 1328.30 and 1334.60.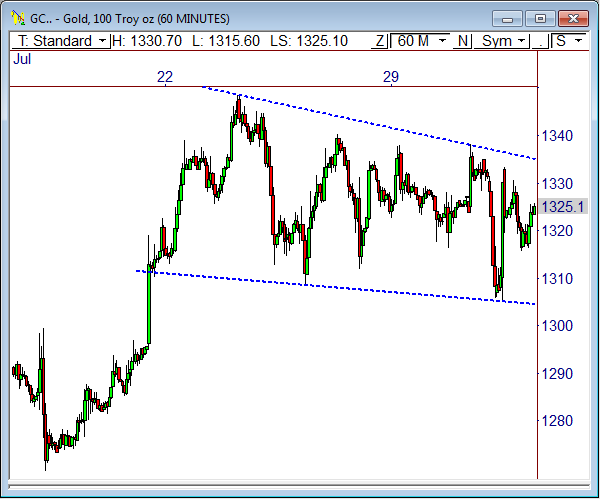 Here are the targets for the current session and the week ahead:
PivotBoss Levels & Targets: Gold (GCQ3)
Thu, Aug 1, 2013
KEY LEVELS
ADR TARGETS
1,385.50
cVPOC
ADR (10)
ONH
ONL
1,371.40
Monthly R1
25.3
1,330.10
1,315.30
1,357.80
Monthly H4
AWR (10)
WH
WL
1,348.70
LVN
56.70
1,338.40
1,304.90
1,343.20
55PEMA
1,338.20
LVN
DAILY TARGETS
WEEKLY TARGETS
1,329.50
cVPOC
BULL
BEAR
BULL
BEAR
1,324.30
PD High
1,346.93
1,317.45
1,361.60
1,295.88
1,316.50
LVN
1,340.60
1,311.13
1,347.43
1,281.70
1,315.70
34PEMA
1,334.28
1,304.80
1,311.80
SETTLE
1,327.95
1,298.48
1,310.00
LVN
*BOLD indicates primary objectives
1,309.00
50% Fib
1,307.20
VPOC
1,306.00
PD Low
1,301.30
Monthly TC
1,299.00
LVN/62% Fib