We had a great day in the PivotBoss Premium Trading Room today, and the source of the excitement was our familiar Absorption Signature, which developed in Crude Oil and ultimately helped us identify a great trade with stunning precision on the entry, and each of the targets.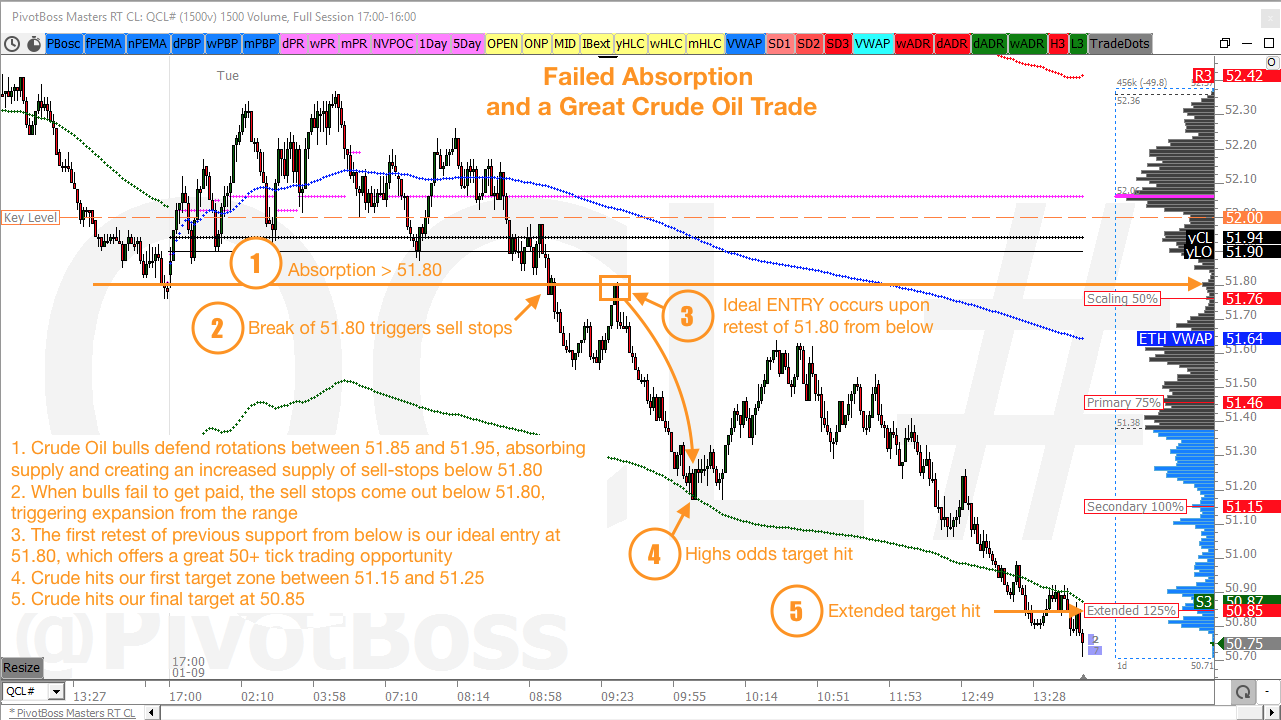 Want to see for yourself? Watch the video below, which shows our live, in-the-room analysis as the trade is developing. To sum it up nicely, Crude Oil dropped one full point from our sell level of 51.80, and only experienced a 1-tick adverse excursion. Check it out below:
Webinar Friday
Don't forget, I'll be speaking to the Denver Trading Group this Friday, Jan. 13th at 3:30pm Central (CLICK HERE to register for the event). Today's action in Crude offers a perfect primer for the content we'll be discussing Friday, which is "The Absorption Signature – a PivotBoss Signature Setup". Click here for more details.
If you liked what you saw in the video, then you should give our Premium Membership a try – only $19.95 for the first 14 days, then only $99 per month thereafter.
Cheers!
Frank Ochoa
Author, Secrets of a Pivot Boss
________________________
Take advantage of our 2 Week Trial to the Premium Trading Room: http://pivotboss.com/trialoffer/
Get 30% OFF my best selling book Secrets of a Pivot Boss: http://pivotboss.com/secrets-of-a-pivot-boss/
LEARN MORE about our pro-style training at PivotBoss Masters: http://pivotbossmasters.com/masters/