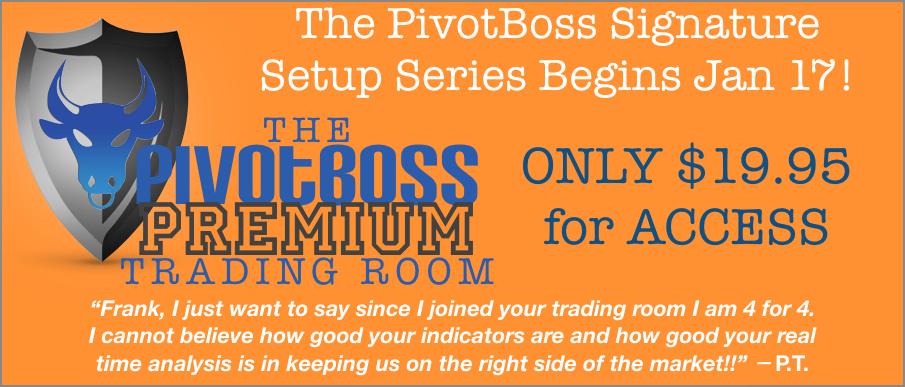 I'm excited to announce this week's PivotBoss Signature Setup Series, which begins Tuesday, January 17! I'll be teaching 5 of my favorite setups this week (the first setup – The Absorption Signature – is already posted to our Premium Dashboard in the OnDemand Training section), and will teach one new setup live in the trading room each day.
These are powerful setups that we commonly see and trade in our trading room, and are designed to help you identify great trading opportunities in all markets and timeframes.
You'll learn:
How to find and spot these recurring patterns
When and where to execute entries
How to manage the trades like a Pro
It's going to be a great week in our trading room, and I'm inviting you to join us for only $19.95! That's right, for less than $20, you'll not only gain access to our Signature Setup Series, but you'll also get 14 days access to our Premium Trading Room, our 10-Part Executive Training Series, and more!
REGISTER HERE: http://pivotboss.com/trialoffer/
I'm looking forward to seeing you all soon!
Cheers!
Frank Ochoa
Author, Secrets of a Pivot Boss
______________________________
Take advantage of our 2 Week Trial to the Premium Trading Room: http://pivotboss.com/trialoffer/
Get 30% OFF my best selling book Secrets of a Pivot Boss: http://pivotboss.com/secrets-of-a-pivot-boss/
LEARN MORE about our pro-style training at PivotBoss Masters: http://pivotbossmasters.com/masters/