CYBER MONDAY DEALS: Save up to 42% on PivotBoss Training until Nov 30!
We've got some incredible deals for you for Cyber Monday!
If you've been looking for quality stock market training at a great price, look no further. My book Secrets of a Pivot Boss is selling at a 42% discount, and our swing-focused training SPB Bootcamp and Swing Trade Pro courses are selling at huge discounts, too. Be sure to take advantage of these special offers.
Don't miss out…Offers Valid thru Nov 30, 2017: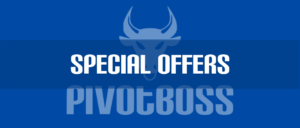 Looking forward to seeing you all Friday, Dec 1, 2017 for our Monthly Outlook!
Cheers!
Frank Ochoa
AKA PivotBoss
Author, Secrets of a Pivot Boss