About PivotBoss
PivotBoss is dedicated to bringing traders the best market analysis and educational content available on the web. We specialize in utilizing price-based, market-generated indicators, but also analyze the market using classical technical analysis. We bring a fresh perspective to our trading and analysis and we look forward to fostering a community of knowledgeable and confident traders.
About Frank Ochoa
PivotBoss is the brainchild of Frank Ochoa, a 14-year market veteran and author of the critically acclaimed book Secrets of a Pivot Boss. He has traded in both discretionary and fully-automated trading environments, and has played an important role in trading software creation and development, including the creation of advanced trading systems.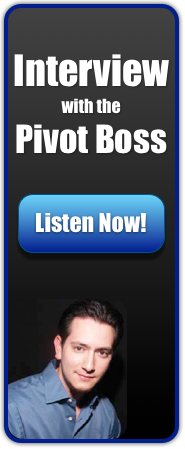 Frank moved to Austin, TX in 1997 to attend The University of Texas at Austin, where he received his B.S. in Corporate Communication in 2001, including an emphasis in Business Foundations. He began actively trading stocks in 1998 and eventually turned a hobby into a career in 2001 when he was hired as a Trading Room Intern for the Austin-based software company Nirvana Systems, Inc. while still a Senior at UT. Within months, Frank was offered a full time position as a Market Analyst and was eventually promoted to Sr. Market Analyst;  a title that he held for the remainder of his ten-year career at the company.
In 2010, Frank published his first book, Secrets of a Pivot Boss, which has become a highly acclaimed book for active traders and stock market enthusiasts. The book has garnered wide-spread praise from traders all over the world and is routinely mentioned among the best trading books on the market.
Frank is a premiere trading educator. Frank has educated thousands of traders over the last decade and has become a highly accomplished public speaker. His methods for educating and engaging audiences has garnered high praise, and his services are often requested for speaking engagements across the country.
Frank is well-versed in trading education and routinely teaches on a variety of subjects, including intraday trading, swing trading, position trading, trade management, trading platform education, system development and creation, technical analysis, indicator-based trading, and pure price-based trading. In addition, Frank is one of the foremost trading educators on pivot-based trading techniques in the world.
Frank has given speeches for top trading organizations and groups, including the Market Technicians Association (MTA), the Association for Technical Analysis (AfTA), the Denver Trading Group (DTG), and the Austin Association of Financial Traders (AAFT), among others.
Frank is also a highly accomplished general market analyst, and has made spectacular calls over the last decade, including the market crashes of 2001 and 2008, and the market rallies of 2003, 2005, and 2009.
Frank resides in Austin, TX and is happily married to his high school sweetheart Claudia, is proud father to daughter Olivia, and welcomed his second daughter Mia in May 2012.