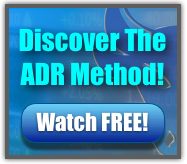 The ADR Method [Swing Edition] is designed to provide you with a game-changing approach to forecasting swing trading targets like the Pros. These concepts are designed for swing traders looking to capture multiple-day moves in any instrument, and can be put to use IMMEDIATELY!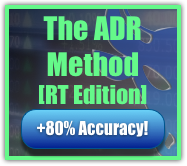 The swing trading version of the ADR Method offers a complete solution to forecasting amazingly accurate, multiple-day targets, and boasts an accuracy rate of over 70% during the 14-month test period!
The Method is simple, requires nothing more than a calculator or spreadsheet (included on the DVD), and can be put to use immediately!

What is The ADR Method?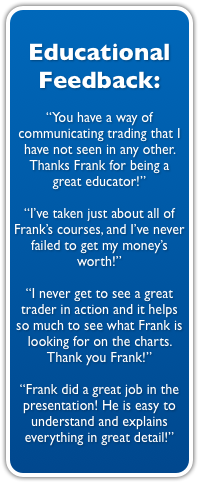 The ADR Method is a powerful approach that helps you forecast price targets using average price movement. The original ADR Method is primarily used for forecasting intraday targets, and has received high praise from traders all over the world. It's global success led to an increase in demand for a swing trading version, which has tested to be as good an approach – if not better!
The Method works because it is price-based, adheres to typical market structure, and takes into account the market's current volatility and personality.
The Swing Edition includes four reliable calculations that allow you to forecast the most appropriate multiple-day targets based on the market's current behavior.
In addition, the Swing Edition reveals the Range Ratio, which has never been divulged by Frank Ochoa before. The Range Ratio provides a way to easily qualify when an instrument is poised for range expansion or contraction, which is essential to price forecasting.
The ADR Method [Swing Edition] is a powerful approach that allows you to:
Identify highly accurate Bull & Bear targets
Forecast user-defined, multiple-day targets with ease
Adapt to recent market volatility and behavior
Easily identify markets poised for expansion or contraction
Scale out of positions at key ADR intervals
and More!
The course also includes the PivotBoss ADR Method Swing Calculator (downloadable from the DVD), and Frank demonstrates how to use it using current market data.
Why do you need The ADR Method?
The ADR Method helps you solve one of the toughest questions in trading – "Where do I exit my trade?".
While entries usually receive the most glamour, the Pros understand that knowing where to exit trades offers the best path to consistent profitability. Also, since The Method is price-based, it is using the most recent and pertinent price data to forecast targets in the CURRENT market.
Also, the fact that The Method boasts an accuracy rate of over 70% gives you confidence in your exits, allowing you to book profits like the Pros.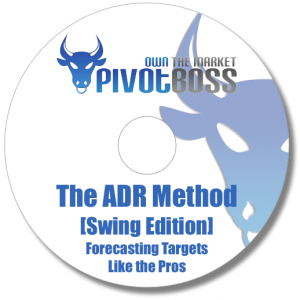 In addition, this course is perfect for:
Novice and Experienced traders
Traders with a swing trading focus
Any market – including stocks, futures, ETFs, etc.
Traders of any platform – no add-ons or plug-ins required!
Regardless of your trading style or the instruments you trade, The ADR Method [Swing Edition] course will provide a perfect complement to your approach. Every trader should own this course, which offers incredible value for the price.
This course ships as one educational DVD
Total Runtime (1 DVD): 1 hour 58 minutes