The E-Mini S&P 400 has rallied nearly 50 points since the impressive reversal near 950 early last week, which has led to great "buy the dip" opportunities. Here's how I see tomorrow's market playing out, along with my trading plan..

Golden Pivot Zone
The 5-minute chart of the E-Mini S&P 400 futures contract shows a Higher Value relationship has formed using the pivot range. This relationship is the most bullish relationship, and usually indicates that any morning weakness into the range will be seen as a buying opportunity by responsive buyers.
However, what makes this Higher Value relationship more powerful than normal is the fact that it also contains the L3 pivot from the Camarilla Equation, which is typically seen as the "buy" pivot. When a Camarilla pivot lies within the pivot range, a major source of support is present, which I affectionately call the Golden Pivot Zone (GPZ).
The GPZ offers a super strong "zone" of support. A GPZ is a great source of support for various reasons, the first of which is the fact that the zone was identified as support using two different pivot-based formulas, thereby introducing true confluence.
Also, the call-to-action to buy at the support zone is greater, since traders of Floor Pivots and traders of the Camarilla Equation will essentially "double" the buying interest at that zone of support.
The Trade Plan
Given the recent run of strength and the Higher Value setup, I'll be looking to "buy the dip" in the MCM2 tomorrow, so long as price opens above 995. If price opens above 995, I'll be looking to buy into morning weakness between 993 and 994.5.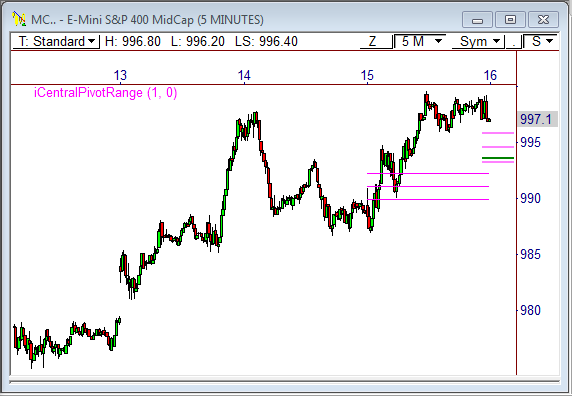 The fact that the MC has a current 10-day Average Daily Range (ADR) of 14 points means that I'll be looking to trade to a target of between 1,003.5 and 1,005, depending on where the morning low is located, essentially using 75% of the ADR. Obviously, I'll update this soft target tomorrow morning after I see where the market printed the overnight high and low.
If price opens the session below 993, all bullish bets are off. If this occurs, I'll look to shift my entry to the short side, with entries set to between 994.5 and 996, and a potential target somewhere in the 986.5 to 988 zone.
Let's see how this one plays out!
Cheers!
Frank Ochoa
PivotBoss | Own the Market
Follow Frank on Twitter: http://twitter.com/PivotBoss