I hope you all had a great Fourth of July and are relaxed and ready for some market action, because the Philadelphia Semiconductor Index ($SOX) looks rested and ready for a breakout. I have three reasons to watch this index for big movement today.
1. Price is Coiling in a 15-Minute Chart
The 15-minute chart of the $SOX shows price has coiled into a triangle/wedge pattern the last three trading sessions. This behavior usually precedes a breakout opportunity.
The fact that the height of the triangle is 18.50 points indicates we could see a very powerful breakout soon – one that could move the index 18.50 points in the direction of the breakout.
If price opens beyond $335 or $326, there's a good shot that we will test either $353.50 (bullish breakout) or $307.50 (bearish breakout).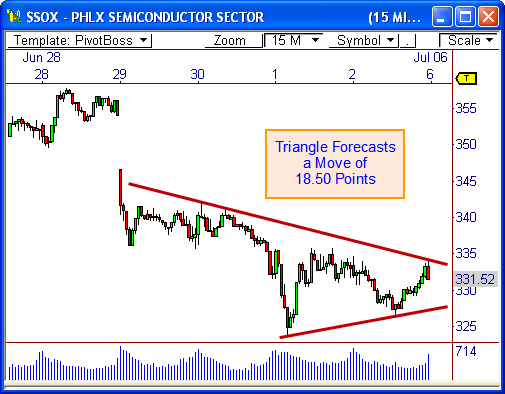 2. Two-Day Inside Value Relationship
The 15-minute chart also shows the $SOX has formed a 2-Day Inside Value Relationship using the central pivot range – which indicates a big breakout is ahead.
Remember, this relationship occurs when the upcoming day's pivot range is inside the pivot range from the prior session, which means price is coiling for a potential breakout.
Again, if we see confirmation outside of $335 or $326, we could get a very nice move ahead.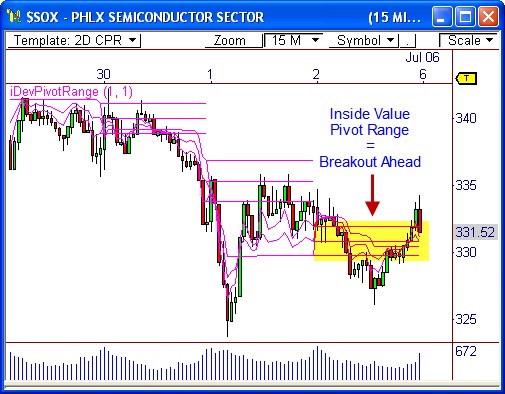 3. $SOX is Sitting on Daily Chart Support
The daily chart of the $SOX shows price is beginning to show early signs of strength off a well-defined support level at about $326.25.
Price has rallied three times from this support level over the last two months, with the moves ranging from $39 to $50 points.
Price is clearly poised to move away from this support level, either up or down. Just wait for confirmation.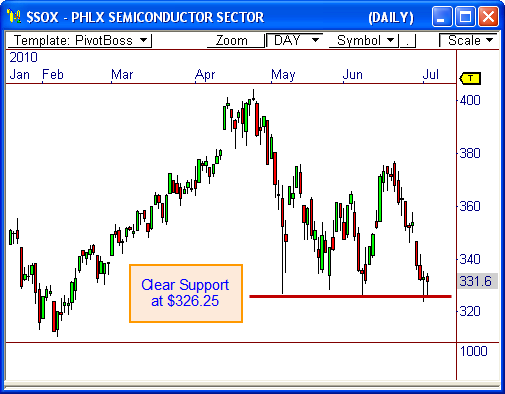 FREE eBook!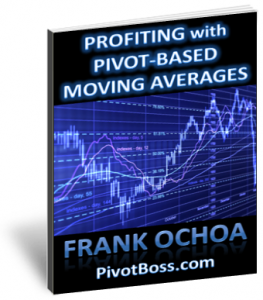 Have you had a chance to download your FREE copy of our 50-page eBook Profiting with Pivot-Based Moving Averages? Do it! It's FREE, there's no risk, and we will NEVER share your information!
I can't wait to see how this week turns out!
Cheers!
Frank Ochoa
PivotBoss.com
Follow Frank on Twitter: http://twitter.com/PivotBoss