The E-Mini S&P 500 has been extremely strong thus far in 2011, making every pull-back a buying opportunity. Given the ES's current behavior, I'll be looking to execute the following plan of attack for my first trade of the day…

Trade Plan for Today
I always create a plan of attack for the first trade of the day. I develop a theory for what may happen, and then I let the market prove or disprove the theory.
I don't care if I am right or wrong, I merely execute the plan if all factors are met.
For today's market, the ES has created a Higher Value relationship with respect to the pivot range for the second day in a row, which is the most bullish two-day relationship you can have. When this relationship develops, you look to buy into early weakness, with the intent to ride price to a new high – buy the dip.
Several factors must come into effect before you pull the trigger, however.
Price must have closed at/near the prior day's high. (Check)

Price must have closed above what will become the next day's pivot range. (Check)

Price opens above or within the next day's pivot range. (To be determined at Open)
If these factors come to fruition, I will look to buy into any weakness into the pivot range, and even a little below it since there is additional pivot-based confluence with the Point of Control at 1,290.
Therefore, if price opens above 1,291, I will look to buy anywhere between 1,290 and 1,292.50, with initial targets set to between 1,295 and 1,297.25 and a stop below the day's low.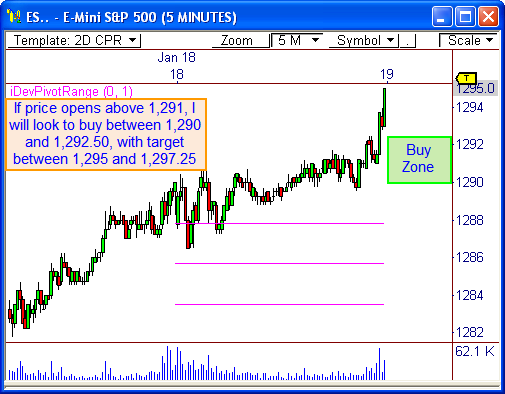 Contingency Plan
However, if the market vastly disproves the theory, then clearly market sentiment has shifted overnight, meaning a major reaction could occur. In this case, a contingency plan can be used.
In essence, if the market opens with a big gap BELOW the pivot range, then I will look to SELL into any strength into my original "buy zone".
That is, if price gaps down below 1,290, I will be looking to sell between 1,290 and 1,292.5, with the intent of targeting between 1,285 and 1,287.75 for an exit, and a stop above the day's high.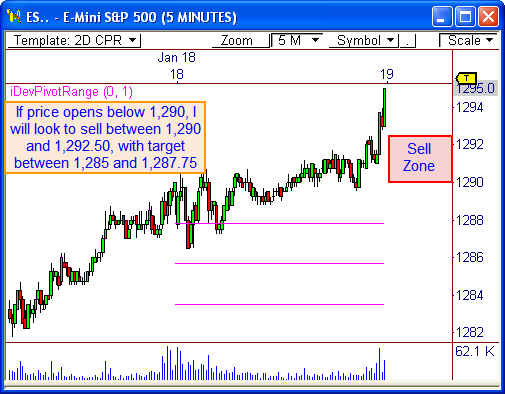 If neither the Trade Plan or the Contingency Plan work out…then I do nothing and will look to enter the market based on other factors as the day plays out.
Let's see how this puppy plays out!
Cheers!
Frank Ochoa
PivotBoss.com
Follow Frank on Twitter: http://twitter.com/PivotBoss