The market has been extremely resilient lately, with every bit of weakness leading to buying opportunities. As such, I've picked three stocks that have pulled back from recent highs, but remain within well-defined bullish trends. Each of these stocks are primed for "buy the dip" opportunities that could lead to new highs within their respective uptrends. Read more..

1. Agilent Technologies ($A)
Agilent has trended higher since September and remains bullish despite a recent pull-back. A new PEMA Pull-Back signal has fired, indicating that now is a good time to "buy the dip" for a push to new highs.
Look for price to push toward $46.00 during the next swing, especially if $40.65 continues to hold. Also, the current Volume Point of Control for the month is $41.46, which provides a powerful form of support at current levels.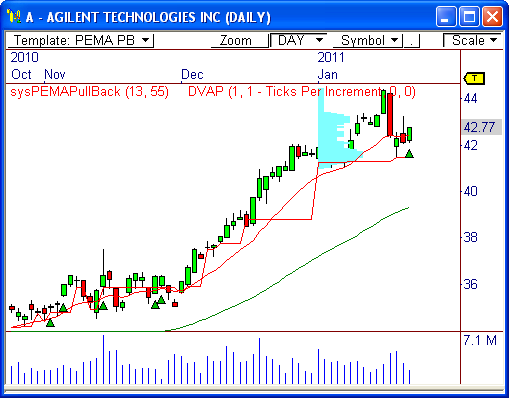 2. Schlumberger LTD ($SLB)
Schlumberger remains highly bullish and continue to push to new highs after every pull-back. The recent PEMA Pull-Back signal further confirms a likely push to new highs within the current bull trend.
Also, $SLB has formed a Higher Value relationship with the pivot range and is currently testing the range as support. If price can remain above the range, and especially above the $80 level, we could see a push toward $90 to $92 ahead.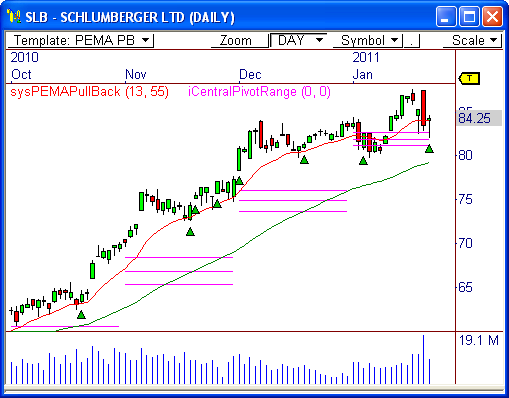 3. Valero Energy Corp. ($VLO)
Valero continues to plow higher after forming a bottom in August at $15.49. After rallying 10 points since the summer, price has now begun to pull back modestly, but is setting up for a decent swing buy opportunity.
A new PEMA Pull-Back signal has fired, which indicates we could see a push to new highs toward $27.00 ahead, especially if price can continue to hold above $23. Also, the month's current Volume Point of Control sits at $23.86, which further reinforces support at current levels.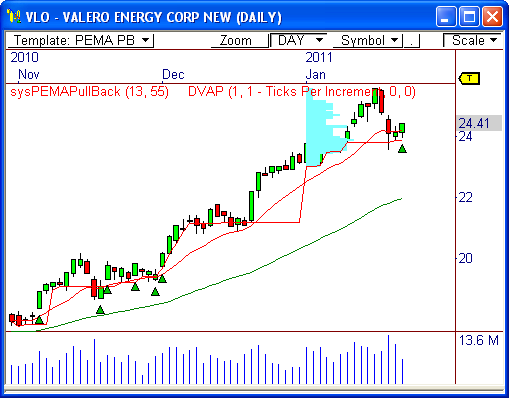 FREE eBook!
If you want to read more about the PEMA Pull-Back signal (and others!), download my FREE eBook Profiting with Pivot-Based Moving Averages HERE. You'll be happy you did.
Thank You!
I want to give a giant 'Thank You!' to everyone that came out to the Association for Technical Analysis (AfTA) SIG event in Dallas over the weekend. It was a smashing success and I was overwhelmed with the amazing response and feedback I received from you.
You were a terrific crowd and that helped me deliver a great presenation for you. I look forward to coming back in the future.
Let's see how these stocks play out in the next few days.
Cheers!
Frank Ochoa
PivotBoss.com
Follow Frank on Twitter: http://twitter.com/PivotBoss