Tractor Supply (TSCO) has been in a long term bull run for over two years, rallying from $15 to $65 since 2009. Even better, every buy signal during this two-year stretch has been golden!

Buy Signal
The weekly chart of TSCO shows price has rallied over 300% the last two years, with every pull-back leading to another round of buying pressure.
Price recently fell from the all-time high of $65, which led to responsive buying pressure that could spark another push to new all-time highs above $65.
As a matter of fact, the PEMA Pull-Back setup fired a new buy signal, which confirms another round of strength ahead.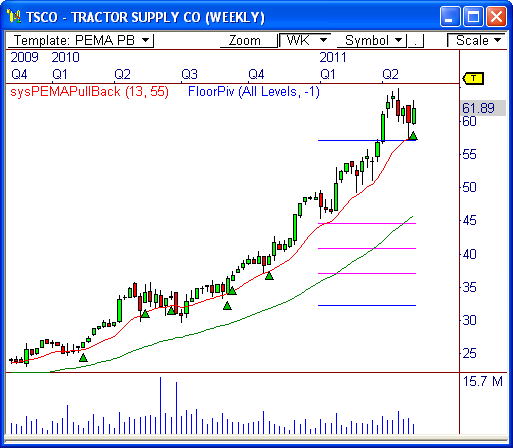 Floor Pivot Support
The weekly chart also shows price held at the yearly R1 pivot level, which served as support during the pull-back, in addition to the 13-period pivot EMA.
This level of additional confluence indicates potential strength ahead, which could last anywhere from one to three months out.
Game Plan
If price breaks above last week's high price of $63.26, look to establish a long position with stops below the two-week low price of $57.11.
Keep an eye on $65.80, as this level represents the yearly R2 pivot level. If price breaks through this zone we could see $75 ahead.
The PEMA Trading Method
Don't forget, I'm teaching a new course this Wednesday night – The PEMA Trading Method. CLICK HERE to learn more and to watch a 2-minute video!
Let's see how this one plays out!
Cheers!
Frank Ochoa
PivotBoss.com
Follow Frank on Twitter: http://twitter.com/PivotBoss