Dow Headed to 9,600?
June 7, 2010 in Analysis
The Dow Jones Industrial Average (ticker: $DJI) dropped sharply the last two trading sessions after topping out at 10,300 on June 3rd.  As a matter of fact, the index has dropped 500 points and could be headed for a test of 9,600.
The Dow broke through the bottom of the ascending triangle pattern at 10,100 last Friday and has dropped about 300 points since the breakout occurred.  I wrote about the triangle on June 2nd and mentioned the Dow was winding up for a major breakout opportunity that could be worth 500 points.
Since the breakout occurred at 10,100, we could see a continuation to 9,600 in the coming days (10,100 – 500 = 9,600).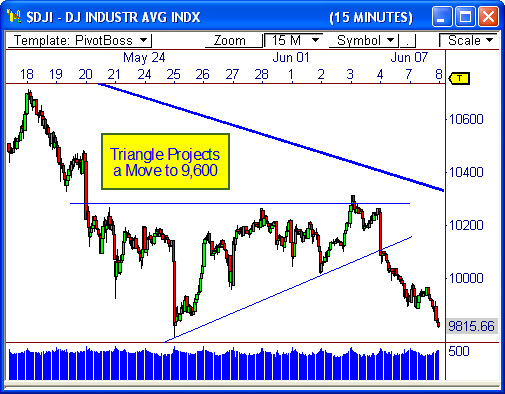 Of course, the Dow is now holding at 8-month support at 9,800, which has been a major area of significance.  If the Dow breaks through 9,800, much more weakness could be seen ahead.  Therefore, 9,600 may be a modest target, while 9,000 could become a reality.
Keep an eye on 9,800 for signs of directional cues tomorrow.  Any slight sign of weakness could easily lead to 9,600 being tested, thereby fulfilling our triangle's target.
Frank Ochoa
PivotBoss.com
Follow Frank on Twitter: http://twitter.com/PivotBoss