Is First Solar Ready for $140?
June 11, 2010 in Analysis
I love it when the sun and the stars align. Especially when it happens in our world of trading. This could be the case for First Solar, Inc. (ticker: FSLR), which looks poised to rally to $140 – at least!
First Solar recently tested 15-month support at the $100 level this week and bounced nicely heading into the weekend. Looking at this stock in a weekly timeframe shows the $100 support level has been razor sharp since the beginning of 2009, as responsive buyers have been quick to enter the market in order to push price back toward value.
Get this – not only is price responding to major visual support, but there is also multiple timeframe pivot confluence at play, as well.
The Camarilla Equation shows major support in both the weekly and daily timeframes. That is, there is yearly L3 support at $106 and monthly L3 support just under $100, creating a powerful form of confluence at this price zone.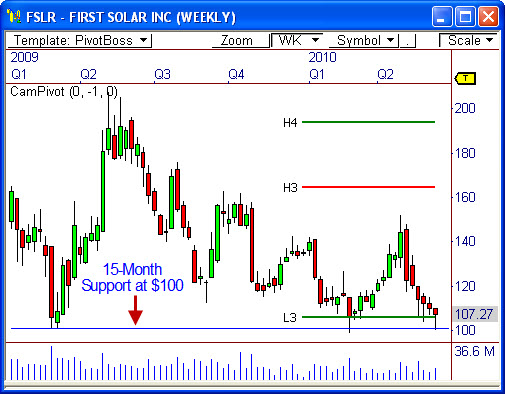 For those of you not familiar with the Camarilla Equation, L3 is widely considered a bullish pivot level. Therefore, buyers enter the market when this pivot is tested, as price is usually considered undervalued at this level.
For more information on the Camarilla Equation, read my recent post "The Camarilla Equation Explained".
In essence, FSLR could see a major dose of buying pressure ahead. Should this occur, price could rally back toward $140 over the next couple of months.
It'll be interesting to see how buyers respond to this support level again.
My bet is we'll see big strength ahead for this stock.
What are your thoughts? Drop a comment!
Cheers!
Frank Ochoa
PivotBoss.com
Follow Frank on Twitter: http://twitter.com/PivotBoss