Heating Oil has endured a precipitous drop since topping out the first week of August. However, major areas of support have stopped the bleeding, which could lead to a decent bounce ahead. Let's take a look..
Confluence of Support
While the Heating Oil futures contract has dropped sharply from $2.20 to $2.00 over the last two weeks, a confluence of support is beginning to reveal itself, which could offer a very nice bullish opportunity.
First, HO is testing a lower trend line, which has held nicely the last four months. Each test at this lower line has led to significant bounces in this commodity.
Second, the lower trend line also coincides with visual support at $1.98, which is a two-month support level. This support level was critical during the July trading range and led to impressive responsive buying activity.
Lastly, both of the support levels above also coincide perfectly with the L4 Camarilla pivot level, which also resides at $1.98. This three-way combo of support could unleash the next wave of strength in this commodity.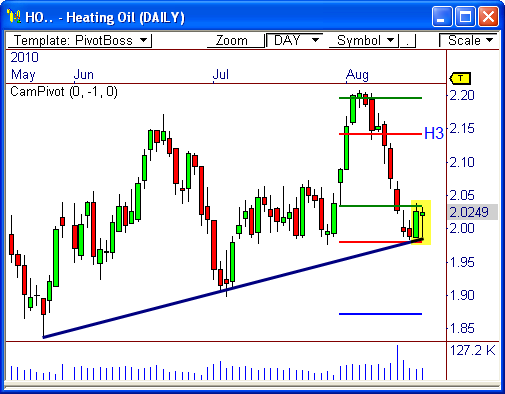 But first, we must see a break above short term resistance at $2.04. A break beyond this zone would confirm strength and would indicate a target back at H3 resistance at $2.142.
To read more about the Camarilla Equation, CLICK HERE!
Let's see if this commodity is ready for blast off..
Cheers!
Frank Ochoa
PivotBoss.com
Follow Frank on Twitter: http://twitter.com/PivotBoss