Jacobs Engineering Group Looks Bullish
February 27, 2013 in Analysis
Jacobs Engineering Group, Inc. has enjoyed a nice four-month bull trend, and could be on the verge of another surge higher. Here's more…

Confluence
The daily chart of JEC shows price has trended steadily higher the last four months, gaining 30% since the beginning of November. The recent pull-back from the 52-week high may prove to be a very nice swing buying opportunity.
As a matter of fact, the pull-back from recent highs led price to drop right into a solid source of support via 3-way confluence.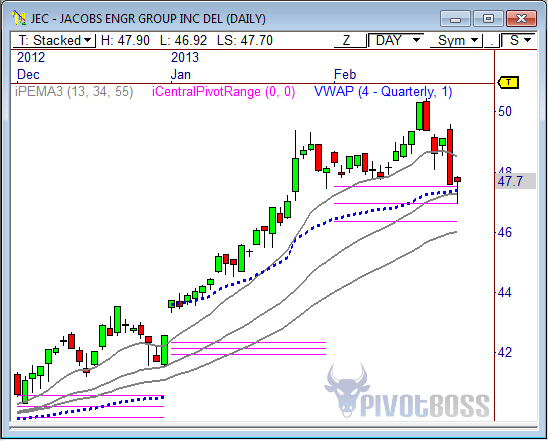 Tuesday's trading activity led to the formation of a bullish reversal candlestick pattern that developed right at the monthly pivot range (pink lines), quarterly VWAP (blue dotted line), and within the trigger zone of "stacked & sloped" pivot-based moving averages (grey lines).
This trifecta of support could lead to a solid 3- to 5-day advance in the days ahead, and potentially more.
The Game Plan
Use the Retest Entry technique to trigger a Long position at $47.40 within the next day or two, using a 1/2 ADR stop at $46.80, and targets at 48.94, 49.13, and 49.85.
Keep in mind, if price breaks (and closes below) the monthly pivot range at 46.36, the trade is over, as it no longer satisfies the conditions of a pull-back swing trading opportunity.
Let's see how this one plays out!
Heating Oil Update
In my last blog post, Heating Oil is One to Watch, I wrote about Heating Oil and its potential to move back toward 3.106. This target was reached in 6 days, and continues to push farther.
In just nine days, this trade has made 168% on margin. Beautiful.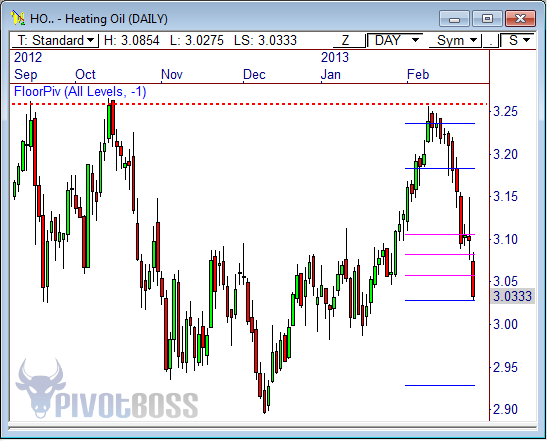 FREE DVD
Don't forget, if you buy my book Secrets of a Pivot Boss in February, you'll also receive the Jumpstart Your Trading educational DVD – FREE!
Cheers!
Frank Ochoa
PivotBoss | Own the Market
Follow us on Twitter: http://twitter.com/PivotBoss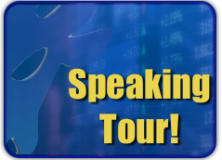 Here's a look at my upcoming speaking engagements - one webinar, and three live dates, so there's a little something for everyone!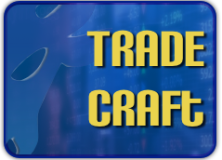 While I typically write forward-looking commentary and analysis, I wanted to write a piece that showed the anatomy of a trade in 5 simple steps, essentially tying together all the various aspects of the education that I teach. Here's more…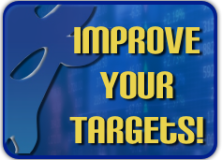 One of the fastest ways to improve your trading is to improve your targets. The ability to identify accurate targets puts less pressure on your entries, and more money in your pocket.